Welcome to En Pointe Ballet!
We are conveniently located in the heart of West Jordan, in Jordan Landing. Come visit us and ask for a tour of our beautiful studios and Dancewear Boutique!
We accept new students year-round, though the best times to start are Summer/Fall to perform in the Nutcracker and January to perform in our June Story Ballet.
We are a non-competitive, performance based classical ballet school.
Our Performances feature dancers ages 3 through adults. Our littlest dancers have the opportunity to experience performing with the advanced dancers who they look up to and aspire to become.
En Pointe is the only studio in West Jordan specializing exclusively in classical ballet with full-length theatrical story ballet performances.
Our philosophy is the preservation of long-standing ballet traditions and technique.
Our artistic vision is to create dancers with solid technique and enhanced self-esteem.
Every dancer has value at En Pointe and is a cherished member of our ballet family. 
We have a successful and strong ballet program for boys and men that grows more each year, with multiple levels of separate classes for male dancers and also 4 levels of partnering classes.
Boys need to be in classes with other boys to embrace the masculinity and athleticism of ballet. 
We are committed to teaching quality technique in an uplifting and encouraging environment that encourages self-worth, dedication and integrity. 
We have Beginning Teen and Adult classes for dancers who never had the opportunity to learn ballet or want to return to ballet classes.
The nurturing environment we have created here has been passed to our dancers. Observing the way the dancers support and encourage each other in the studio and also backstage is an unforgettable and heart warming experience. 
We have students from West Jordan, South Jordan, Riverton, Herriman, Taylorsville, West Valley, Murray, Sandy, Draper, Bluffdale, and Orem.
Call or email now to schedule a FREE trial class.
Join our ballet family and both you and your dancer will be so happy you did! Come grow with us!
(801) 282-6998
enpointeballet@comcast.net
Contact us now for a FREE placement class.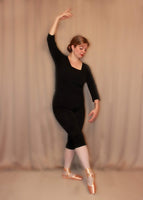 Owner & Artistic Director
En Pointe School of Ballet is owned & directed by Rachael Ellis. Originally from Florida, Mrs. Rachael began her training at the age of 6 at The Marianna School of Classical Ballet. For 12 years she was instructed and guided by Leanna Gomez, a former Prima Ballerina.  It was through her excellent and nurturing instruction that Rachael developed a great love for classical ballet. 
Learn More
Testimonials -Swipe for more
"It is one of the few schools where a male dancer, boy or man, can learn without feeling like their masculinity has been compromised. Great environment for learning and developing technique. Opportunities for performing in full ballets." ~

Mr. Ariel Paraso
"I don't know what you could possibly be doing to make boys beg for dance classes but it is working!"  

Tiffany Greenland 
"So glad we found En Pointe! Rachael is an amazing instructor who has helped my shy daughter open up, and love ballet."   Ashley Giessing 

 Ashley Giessing 
Encouraging, professional, and family like environment. Beautiful productions. Quality teaching and results without crazy commitments. We love En Pointe!

Tennisa Nordfelt 
I definitely give En Pointe 5 stars!! We have been with En Pointe School of Ballet since 2015 and have loved every minute of it!  We will be with Rachael and the En Pointe family for many years to come! 

Carole Bingham 
I can't say enough wonderful things about this ballet studio. Rachael has put together a fabulous classical program.  I particularly appreciate that the classes for boys are all-boy. The atmosphere of the school is positive and friendly. I highly recommend En Pointe. 

Britain Soderquist
Love this studio! Kind and caring teachers and great atmosphere. My daughter started here at three and has enjoyed it so much. She feels so special being a "ballerina". And the performance at the end of the year is a true Ballet. The quality costumes, set and dancing sets this company apart from the rest.

Michelle Gardner 
I danced at En Pointe School of Ballet for 8 years and it became a second home for me.  I've never danced at a studio with a better atmosphere than En Pointe. It provides every dancer with opportunities to dance in a variety of ballets and roles and I'm so grateful for the experience I had. I always felt valued and that my teachers believed in me.

Lyndsey LeGrande
Miss Rachael is wonderful! Class sizes are small and kids get personalized attention. My daughter loves it. This is exactly what we were looking for in a ballet studio! The performances at the end of the year are amazing!

Amy Garvey