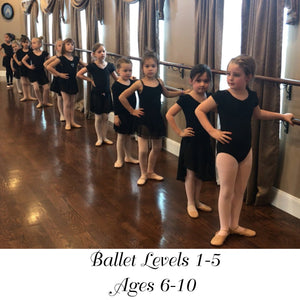 Class Description
Ballet levels 1-5 (ages 6-10) Beginning at age six, students are placed in Level 1 and advance according to age, experience, and ability. Each level of classical ballet training increases strength, flexibility, musicality, proper body alignment and knowledge of the French Ballet vocabulary.  Each class level builds upon the previous one at an increasingly difficult level through barre and center exercises, combinations, and choreography.  By the end of level 5, students must have a full working knowledge of ballet technique and terminology vocabulary before progressing to Pre-Pointe. 
The attire for this class is a black leotard in a style of your choice, short sheer black skirt (does not have to be attached) pink footed tights, pink leather or stretch canvas ballet slippers. No tutus or satin slippers please. Hair should be pulled back in a bun if possible.
Additional Conditioning classes, Junior PBT, Junior Turns and Leaps, and Junior partnering classes are recommended to enhance training and strength. Students are also welcome to register for more than one ballet class in their level each week for additional technique training.