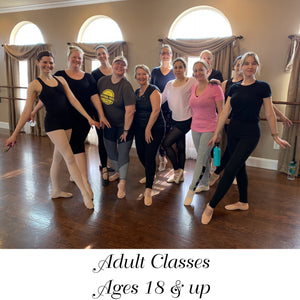 Class Descriptions

Punch-card or unlimited classes options  

Adult Classes are for those aged 18+
Adult Ballet is tailored for adult who love to dance and wish to learn the grace & elegance of Ballet  in a stress free environment.  En Pointe offers 3 different levels of difficulty. 
Adult Pre-Pointe - This class is for adults that desire to advance to Pointe Shoes. This class is still done in technique shoes. It is required to attend both weekly classes to gain enough foot strength to safely go on Pointe. Adults wishing not to go on Pointe may attend as well. 
Adult Pointe- A class for adult who are able to dance on pointe and want to continue their dance dreams.