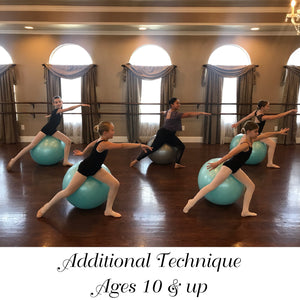 Class Descriptions
Turns and Leaps (ages 12 and up) 
 Beginning and Intermediate Turns and Leaps
Advanced Turns and Leaps 
 
Junior Turns and Leaps  (ages 8-11) 
 
Junior Progressing Ballet Technique  (ages 8-11)
Progressing Ballet Technique (ages 12 and up) 
Private lessons
- by appointment 
 Beginning/Intermediate Turns and Leaps (ages 12 and up) - 

This class helps to increase flexibility, core strength. spotting, leg strength and extension. This specialized class improves technique when executing a variety of leaps, jumps, sissonne, chaînès, pirouettes, fouettès, etc.  The ability to jump and turn correctly and safely is crucial to a dancer's technical progress.  This is a non-performance class.
Junior Turns and Leaps (ages 8-11) -
Turns and leaps class for this age increases their technique in tremendous ways. 
This is a non-performance class. 
Progressing Ballet Technique (ages 12 and up) -

PBT is a revolutionary program that helps in training muscle memory to assist dancers in achieving their best in ballet training. This class is an amazing way to increase technique and strength quickly.  It involves training with equipment such as a large exercise ball, small soft stability ball, resistance bands, lacrosse ball, and a BOSU Ball. PBT training strengthens turnout muscles and improves correct body placement and alignment. This is a non-performance class.  Dancers must bring their own Yoga Mat, resistance bands, and lacrosse ball. We provide the large exercise balls.
 Private lessons - One on one personal instruction is a valuable experience that can improve a dancer's technique very quickly.  Through private lessons, dancers are able to work on improving as a dancer through specific individualized technique corrections, stretching suggestions, core conditioning exercises and targeted strengthening that is very specific to them and their personal needs. Private lessons are available as a single one-time lesson, once monthly lessons or weekly lessons. Our target audience is our Pre-Pointe and Pointe classes, to help them to become stronger to increase pointe shoe readiness and to improve pointe technique for anyone who feels they are struggling, but other ages are welcome to have this experience too. Private lesson prices are the same regardless of instructor and payments should be made to En Pointe. $60 per hour or $30 for 1/2 hour.